Bird Watch Tours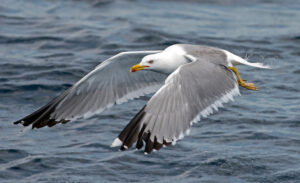 We offer a variety of bird watching tours. One of the more popular trips is a 10-12 hour Offshore Pelagic Bird Watching Trip. Click here for the current schedule of those trips.
San Diego County boasts the biggest bird list of any county or of any area of equal size in the United States; over 520 species across the county. We hope you get out there to experience our amazing, biodiverse region, where you may see exciting endemic birds.
eBird records having spotted 103 species at our dock/marina location alone. Once you embark out of the bay, within 10 miles of Mission Bay eBird records indicate another 74 species have been sighted.
There are many different bird species to see depending on the time of year, but can almost always see:
Cassin's Auklet
Heerman's Gull
Western Gull
California Gull
Royal Tern
Elegant Tern
Red Throated Tern
Pacific or Common Loon
Pink Footed Shearwater
Black Vented Shearwater
Brandt's Cormorant
Double Crested Cormorant
Brown Pelican
Aside from seeing these birds on any of our whale/dolphin excursions or a sunset cruise, we also offer the occasional Pelagic bird watching trip in which we will specifically target these birds offshore. These pelagic bird trips are longer than our normal whale watching trips, and although we are targeting pelagic birds, we will often see whales and other Cetaceans all in the same area.