Private Charters
Private Events
Plan a unique tour specific to your vision. A private charter aboard the Legacy can be a perfect solution for:
School Groups (Educational Groups)
Corporate Groups (Parties, Team Building, Fundraising)
Clubs
Photoshoots
Family Reunions
Memorials
Birthdays
Receptions
'Rehearsal Dinner' Cruises
Our typical departure times are morning (10 am) or afternoon (1:30 pm), or sunset cruises (5:00 pm). These times fluctuate throughout different times of the year. Depending on the group and your vision, we can focus on wildlife or more of a focus on San Diego from Point Loma to around La Jolla; this is a great view of the city.
Private charters are unique and planned to provide the best experience for any given group.
Use the 'Private Charters Contact Form' or call us at (619) 309-1680 at your convenience.
Memorials at Sea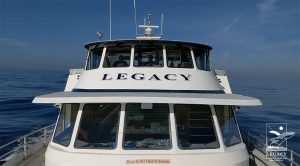 Legacy offers a private ash scattering memorial at sea aboard a beautiful 80′ US Coast Guard certified/inspected vessel.
A standard service takes about an hour and a half. We depart from Mission Bay in San Diego and travel into the ocean; we can either travel North towards La Jolla or South towards Point Loma (Cabrillo National Monument / The Lighthouse).
How to Personalize Your Memorial Service
We are happy to personalize each service according to the wishes of the deceased and the families involved.
This might include:
Inclusion of a priest, minister, or other clergy (You will provide this)
Music that the deceased especially enjoyed (You will bring the music; we can accept a variety of formats)
Rose petals or cut flowers to release into the water (We can recommend florists)
These are just a few examples. We will try our best to accommodate anything else that you might have in mind – it's your event!
Bay Tour Option
You may wish to extend your event by adding a Bay Tour to the memorial.
You may also bring party trays or have something catered by the excellent eatery at the top of the dock—The Royal Rooster. We can introduce you to the owner to discuss these options. They offer excellent catering/take-out options at reasonable prices.
The additional cost for a Bay Tour is $500 per hour.
A one-hour tour might include a stop in one of the calm basins in Mission Bay. These calm waters make an excellent location for eating and drinking.
Schedule Your Memorial
Depending on the time of the year. The availability of these memorial services and the option to add a tour will depend on the existing schedule of the Legacy and what time of day you'd like to embark.
We look forward to providing a meaningful, dignified service for you.
We are proud to offer our dignified, professional ash scattering at sea services at an affordable price:
$2,400 for up to 140 people for 3 hours.
Use the 'Private Charters Contact Form' or call us at (619) 309-1680 at your convenience.
Private Charters Contact Form