San Diego Whale Watching Company Welcomes Gray Whale Season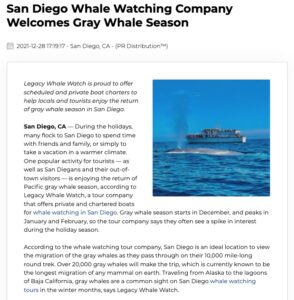 Legacy Whale Watch is proud to offer scheduled and private boat charters to help locals and tourists enjoy the return of gray whale season in San Diego.
San Diego, CA — During the holidays, many flock to San Diego to spend time with friends and family, or simply to take a vacation in a warmer climate. One popular activity for tourists — as well as San Diegans and their out-of-town visitors — is enjoying the return of Pacific gray whale season, according to Legacy Whale Watch, a tour company that offers private and chartered boats for whale watching in San Diego. Gray whale season starts in December, and peaks in January and February, so the tour company says they often see a spike in interest during the holiday season.
According to the whale watching tour company, San Diego is an ideal location to view the migration of the gray whales as they pass through on their 10,000 mile-long round trek. Over 20,000 gray whales will make the trip, which is currently known to be the longest migration of any mammal on earth. Traveling from Alaska to the lagoons of Baja California, gray whales are a common sight on San Diego whale watching tours in the winter months, says Legacy Whale Watch.
The Pacific gray whale can grow up to approximately 49 feet long and weigh around 90,000 pounds, with females typically being larger than males. Their bodies are speckled and gray, with eyes just above the corners of their mouths. Gray whales lack a dorsal fin, but have a dorsal hump as well as several small bumps called "knuckles" that appear between the dorsal hump and tail flukes.
To ensure the best possible experience for whale watchers, the team at Legacy Whale Watch encourages individuals interested in witnessing the migration of the Pacific gray whale to find a whale watching company in San Diego that offers tours hosted by an experienced and competent crew. Legacy Whale Watch says they employ a crew of naturalists who are knowledgeable about the local wildlife, as well as the surrounding environment. Furthermore, Legacy Whale Watch notes that their captains are USCG (United States Coast Guard)-certified and proficient in whale watching conduct and safety.
About Legacy Whale Watch
Legacy Whale Watch is family-owned and operated locally in San Diego, offering scheduled and private boat charters for whale watching and other tours of the San Diego coast. All captains and crew members on the tours are well-versed about local wildlife and are passionate about continuing their education regarding the various species that they encounter regularly. The Legacy is a classic motor yacht featuring a comfortable heated indoor area where guests can comfortably view whales, dolphins, and other creatures through large windows. Guests can also view wildlife on the upper or lower decks, which include speakers to hear information about the animals seen during the tour. The team at Legacy Whale Watch is available for interview upon request.
To learn more about Legacy Whale Watch and book a tour or private boat charter, please visit sdwhale.com, facebook.com/legacywhale, or @legacywhalewatch on Instagram.
Contact:
Legacy Whale Watch
1717 Quivira Rd
San Diego, CA 92109
(619) 309-1680
Rosemont Media
(800) 491-8623
www.rosemontmedia.com