San Diego Whale Watching Company Sets Sail with a New Website Design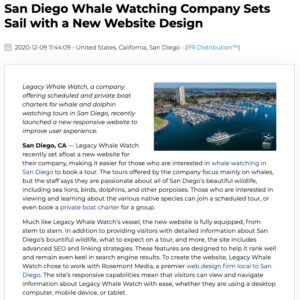 Legacy Whale Watch, a company offering scheduled and private boat charters for whale and dolphin watching tours in San Diego, recently launched a new responsive website to improve user experience.
San Diego, CA — Legacy Whale Watch recently set afloat a new website for their company, making it easier for those who are interested in whale watching in San Diego to book a tour. The tours offered by the company focus mainly on whales, but the staff says they are passionate about all of San Diego's beautiful wildlife, including sea lions, birds, dolphins, and other porpoises. Those who are interested in viewing and learning about the various native species can join a scheduled tour, or even book a private boat charter for a group.
Much like Legacy Whale Watch's vessel, the new website is fully equipped, from stem to stern. In addition to providing visitors with detailed information about San Diego's bountiful wildlife, what to expect on a tour, and more, the site includes advanced SEO and linking strategies. These features are designed to help it rank well and remain even keel in search engine results. To create the website, Legacy Whale Watch chose to work with Rosemont Media, a premier web design firm local to San Diego. The site's responsive capabilities mean that visitors can view and navigate information about Legacy Whale Watch with ease, whether they are using a desktop computer, mobile device, or tablet.
The crew of naturalists at Legacy Whale Watch pride themselves on being knowledgeable about the city's exquisite creatures, both in and out of the water — they are committed to staying up-to-date on the latest information about all wildlife that can be seen during their tours. Furthermore, the crew often participates in research to improve understanding of San Diego's native marine animals. Ultimately, Legacy Whale Watch hopes the new responsive website can help them reach San Diegans and tourists alike, enabling anyone living in or visiting the area to fully enjoy all that America's Finest City has to offer.
About Legacy Whale Watch
Family-owned and operated locally, Legacy Whale Watch offers educational and fun whale watching tours in San Diego for all ages. Their experienced captains are USCG (United States Coast Guard)-certified and well-versed in whale watching conduct and safety. All captains and crew members are knowledgeable about the wildlife in San Diego, and remain dedicated to ongoing education about the various species that they encounter regularly. The Legacy is a classic motor yacht with a comfortable heated indoor area that features amenities such as a snack bar, lounge-style seating, and three restrooms. Guests can comfortably view whales, dolphins, and other creatures from the indoor area through large windows, or along the upper or lower decks, complete with speakers to hear information about the animals seen during the tour.
To learn more about Legacy Whale Watch and book a tour or private boat charter, please visit sdwhale.com, facebook.com/legacywhale, or instagram.com/legacywhalewatch.
Contact:
Legacy Whale Watch
1717 Quivira Rd
San Diego, CA 92109
(619) 309-1680
Rosemont Media
(858) 200-0044
www.rosemontmedia.com